Atlantic City adventures
Fun at the new Harrah's casino and resort in Atlantic City.
By Jess Mayhugh. Posted on July 27, 2009, 2:30 pm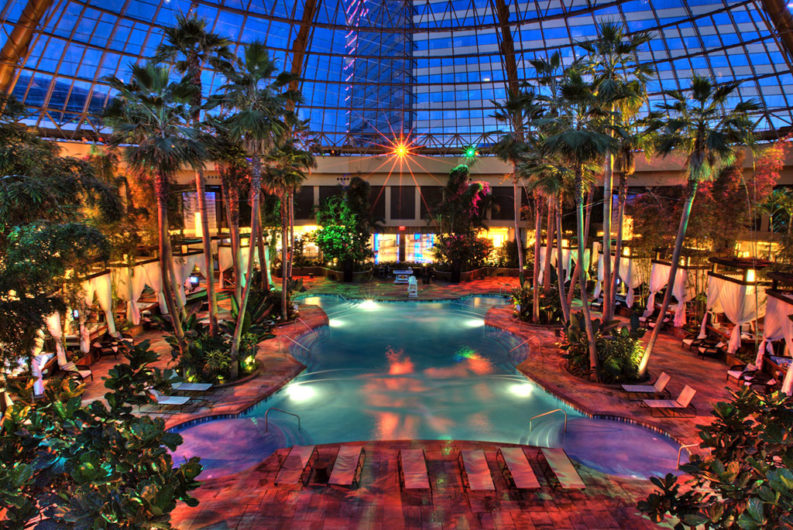 Harrah's Atlantic City -http://www.lifescapesintl.com
This past weekend I traveled to Atlantic City, NJ--a mere two-and-a-half-hour drive from Baltimore. The town is basically a mini Las Vegas on the beach, which mixes the best of both relaxing daytime and energetic nightlife. In the past couple of years, the city has tried to class it up a little bit in order to stray away from its reputation as the haven for slot-addicted retirees. I definitely noticed some changes in the city since I last traveled there, making it a more luxurious destination.
We stayed at the Harrah's, which is off the beaten path from the main casinos on the Boardwalk. Our room was in the fairly new Waterfront Tower (built last year), a commanding 44-story building that is the tallest hotel casino in Atlantic City. What also makes the tower unique is that it's a giant LED screen featuring nearly 30 images (tumbling dice, playing cards, American flag) visible up to 10 miles away from the hotel.
The first night we checked out Dusk, a nightclub co-owned by DJ AM that opened earlier this month. Now I've never been a huge club person, but Dusk was seriously awesome. Right on the Boardwalk, the below-ground club has an underwater ambiance. The club is shaped like a circle with multiple layers: the bars and VIP tables make up the circumference, the DJ booths are just inside that, and a giant dance floor is in the center. The music was unpredictable and entertaining--DJ Mark Stylz was spinning a range from "Walking on Sunshine" to "99 Problems" and everything in between. One of my favorite parts of Dusk, though a little unconventional, was the bathroom. The pristine white and aqua bathroom had circular, individual sinks that were like mini islands throughout the room. Kind of hard to describe, but hands down the coolest bathroom I've ever seen.
The next day we spent lazily walking around the Boardwalk in the seriously muggy weather. Besides losing money in slot machines and enjoying some Rita's, we wandered into the Pier Shops, which is a giant mall on the pier. When you actually realize that you're over top of water while inside the mall, it's kind of a scary feeling. But the shops were a lot of fun to browse. I couldn't afford much, but I wandered into Steve Madden, Betsy Johnson, and played around in the Apple store. It was a diverting (air-conditioned) way to escape the Boardwalk crowds.
That night we checked out the Xhibition Bar back at our hotel. The coolest thing about this place was the Microsoft Surface tables, which were basically like coffee tables with giant touchscreen computers on them. You can order a drink, play a game of bowling, and even mess around with some maps using this really cool technology, which is probably a preview for what our computers will be like someday.
We couldn't stay at Harrah's without going to their famed Pool. During the day, hotel goers relax by the indoor pool, which is covered by a giant domed roof. But at night, The Pool turns into a bar/club space. The celebrity guest that night was Lauren Conrad from MTV's The Hills (though she just ended her final season with the show). Conrad and some of her friends had their own private cabana, but were nonetheless surrounded by hordes of girls with digital camera and cell phones in the air. Kind of sad. The girl couldn't even use the bathroom without being harassed.
But The Pool itself was a mesmerizing space. There was a giant swimming pool in the center, various hot tubs throughout the club, and regular bars and tables scattered around. There was also a deck off of the second floor with another bar and more cabanas, if you wanted to escape the chlorine-infused air. There were many people dancing, swimming, and enjoying their bachelorette parties. This would be a memorable place to party with some of your best friends.
All in all we had a great, exhausting weekend. It's hard to believe that all these amenities and the feeling of luxury (if only for a weekend!) is just a short drive away from Baltimore.
Jess Mayhugh is the digital editor for Baltimore, where she covers nightlife, sports, food, and events.
Read more from Jess
Follow @jessmayhugh