Cocktails at Dylan's Oyster Cellar
We try out a new pop-up business in Mt. Vernon.
By Jess Mayhugh. Posted on March 20, 2014, 10:00 am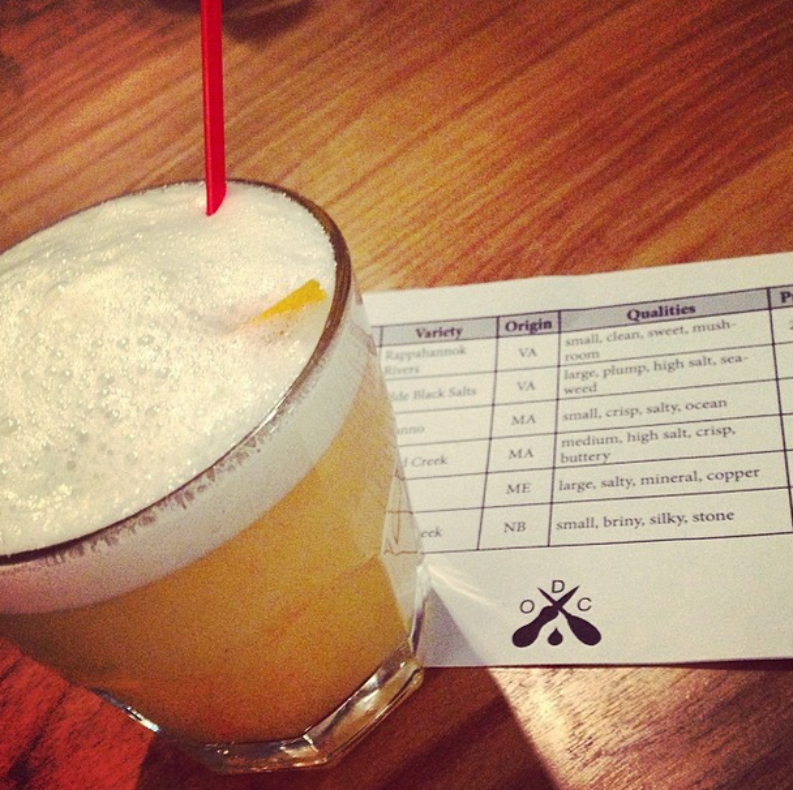 -Instagram
Pop-ups are all the rage these days—whether it's holiday shops or ramen nights—and we love the latest venture, Dylan's Oyster Cellar in Mt. Vernon. When Dooby's opened last year, the shop also opened an adjacent space called the Hatch, which is dedicated to six-to-eight-week pop-up shops. Dylan's Oyster Cellar is the current inhabitant.
We love the simple concept: a basement space with a menu solely consisting of oysters on the half shell and a drink list with local beer, wine and champange, and craft cocktails. When we tried it out last week, we slurped on some delicious Rappahannock Rivers and Old Salts, with direction from Gilman grad and oyster expert Dylan Salmon.
In addition, the cellar features a small but thoughtful drink menu with everything from $2 Natty Bohs to glasses of sparkling cava. We also tried the Cellar Sour, pictured, with vodka, egg whites, orange bitters, simple syrup, and fresh lemon juice—which was an ideal, citrusy accompaniment for the oysters.
The cellar's bartender, named Slippy, has ordered new whiskeys, gins, cordials, and a Champagne, so expect new cocktails this coming week. We are looking forward to all the things Dylan's has to offer—whether it's a pop-up or a more permanent venture.
Dylan's Oyster Cellar is open Wednesday-Sunday, starting at 4 p.m.
---
Meet The Editor
Jess Mayhugh is the digital editor for Baltimore, where she covers nightlife, sports, food, and events.
---