Happy Friday the 13th! Police Just Shot A Bull in Mt. Vernon
No, really.
By Amy Mulvihill. Posted on June 13, 2014, 11:51 am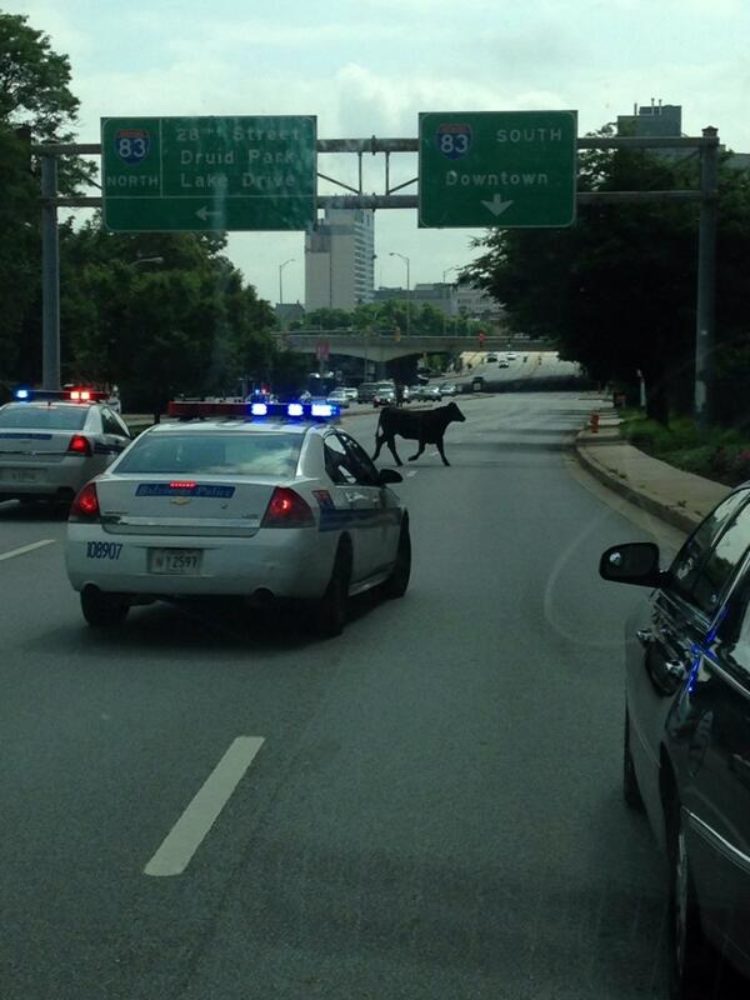 -India Ivery
Details are sketchy at this point, but it is apparently true that police shot a loose bull in Mt. Vernon this morning. Rumors are circulating that the bull escaped from a local butcher, but that remains unconfirmed. Mr. Bull already has his own Twitter account @NorthAveBull, and his own trending hashtag #baltimorebull.
We know. We didn't think Baltimore could get any weirder either.
Cop who just showed up on scene says to other officer, "I thought you meant a pit bull...!"

— Justin Fenton (@justin_fenton) June 13, 2014
The prequel to the high heel race for Pride is the high hoof race. #BaltimoreBull

— Chance Carter (@beastcoastsnark) June 13, 2014
The #baltimorebull is almost exactly a year after the missing red panda in dc last summer. #illuminati

— Scott B (@InsideTheBlock) June 13, 2014
Guys the bull is dead how he got out is a moooooot point. #baltimorebull

— Jeremy Bauer-Wolf (@jbeowulf) June 13, 2014
Oh man, I'm stoked for the national media this week. Loose bull much better than a graduation fight or collapsed street. #baltimorebull

— Charmed & Dangerous (@BaltimoreDating) June 13, 2014
---
Meet The Editor
Amy Mulvihill is a senior editor at Baltimore, where she covers the environment, travel, real estate, neighborhood news, and culture.
---