Baltimore: The Birthplace of American Cycling?
Local campaign seeks recognition for Charm City's role in U.S. bicycling history.
By Ron Cassie. Posted on July 29, 2014, 5:07 pm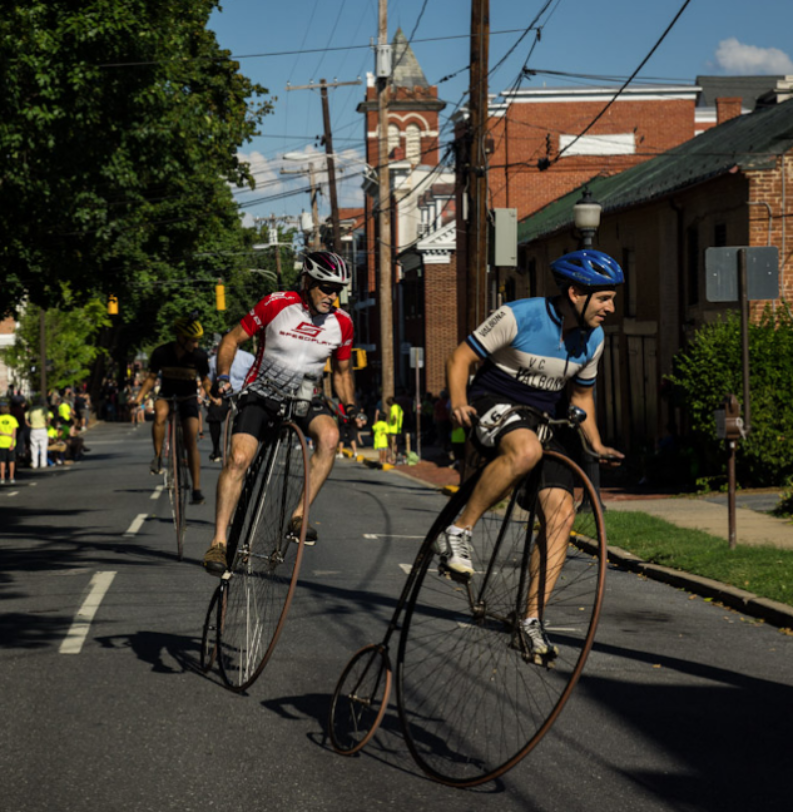 -The Bicycle Escape
First rail station in the U.S? Baltimore. First Catholic cathedral and first monument to George Washington in the U.S.? Baltimore, Baltimore. First American city with gas-lit street lights? Yup, Baltimore.
Famous (in our minds, at least) as the "City of Firsts," the Maryland Historical Society, partnering with Baltimore Heritage, has launched a campaign to win recognition of Charm City's unique role in early American cycling. According to a press release from the Maryland Historical Society, the first-ever American bicycle was built in 1818 by Baltimore piano-maker James Stewart. Who knew?
The predecessor to the modern bike, Stewart apparently picked up on the invention of the velocipede—the pedals were attached directly to the frame's front wheel—several years earlier in Europe. And, well, the whole cycling thing eventually swept the U.S. with the advent of high-wheel bikes in the late 19th century. (The above photo is from the annual Frederick Clustered Spires High Wheel Race, one of the only such races in the country today.)
The Maryland Historical Society, in conjunction with hosting the International Cycling History Conference at the Society's Mount Vernon headquarters next month, will hold a special, one-day exhibition—American Wheels to the Front: The Involution of American Bicycles (1868-today)–as well as celebrate our cycling past and present with an "Old Timey Bike Fest" and happy hour Aug. 7.
"Unlike many historical subjects, bicycles continue to play an important and growing role in Maryland and America today," said Burt Kummerow, president and CEO of the Maryland Historical Society. "We invite [everyone] to participate in the fascinating past, present and future of bicycles here at the Maryland Historical Society."

From the Maryland Historical Society, details of the Aug. 7 events are as follows:
Visitors can enjoy free admission to the Maryland Historical Society (MdHS) from 10 a.m. - 7:30 p.m. to experience a special one-day exhibition: American Wheels to the Front: The Involution of American Bicycles (1868-today)
Free Young Defenders First Thursday Happy Hour in the Courtyard at MdHS from 5 p.m. - 7:30 p.m.
On hand will be local food trucks, including The Green Bowl and GrrChe, and local beer and wine at a cash bar: $3/beer; $5/wine
Demonstrations of historic bicycles by modern high-wheel men starting at 6 p.m.
A celebratory bike ride led by Baltimore Heritage departing MdHS at 7:30 p.m.
---
Meet The Editor
Ron Cassie is a senior editor for Baltimore, where he covers the environment, education, medicine, politics, and city life.
---