Ulman Cancer Fund's Cross-Country Runners Reach Federal Hill
4K for Cancer Team completes journey from San Francisco to Baltimore.
By Ron Cassie. Posted on July 29, 2014, 9:00 am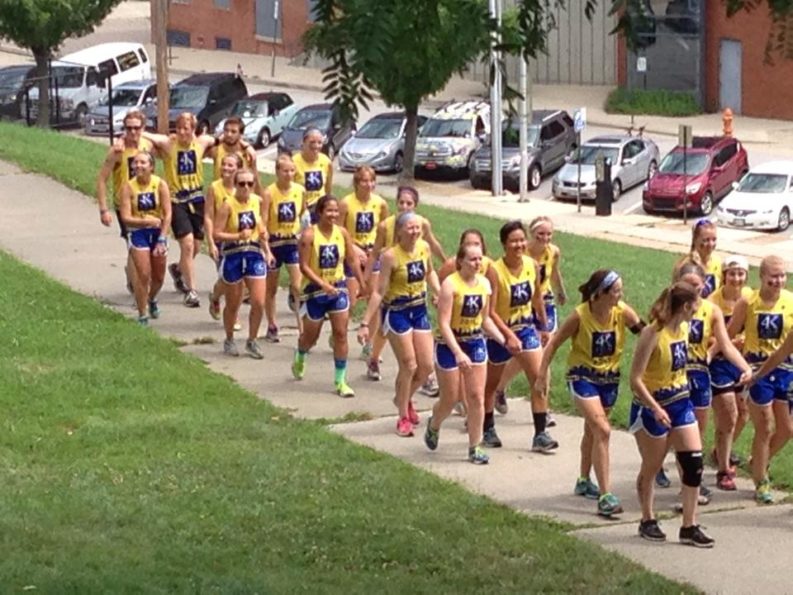 -Jane Marion
More than two dozen Ulman Cancer Fund cross-country runners reached the Inner Harbor at noon Saturday, some jogging into the city with understandably sore muscles, but a few running the entire last leg from Ellicott City. Once the group arrived at the harbor, they all made their way to the top of Federal Hill as a team and then ran the last few feet to the finish line.
The 26 runners completed a six-week, 4,000-mile journey from San Francisco, essentially running a relay across the United States, with participants running an average of 10 miles or so a day, six days a week. In the process, they raised more than $150,000 for the Baltimore and Columbia-based Ulman Cancer Fund for Young Adults.
Along the way, the group slept in fire halls, churches, and YMCAs, often receiving unexpected kindness from strangers, who brought donated food from Chipotle and IHOP—and sometimes home-cooked meals—on a near daily basis. One truck driver even pulled over and handed the runners four boxes of candy.
Founded in 1997, the nonprofit Ulman Cancer Fund for Young Adults "works at a grassroots level to support, educate, connect, and empower young adult cancer survivors."
Baltimore profiled the Ulman Cancer Fund for Young Adults in 2011.
---
Meet The Editor
Ron Cassie is a senior editor for Baltimore, where he covers the environment, education, medicine, politics, and city life.
---