Are the Orioles a Playoff Lock?
According to the math, the O's have a better than 90 percent shot at the playoffs.
By Ron Cassie. Posted on August 14, 2014, 11:31 am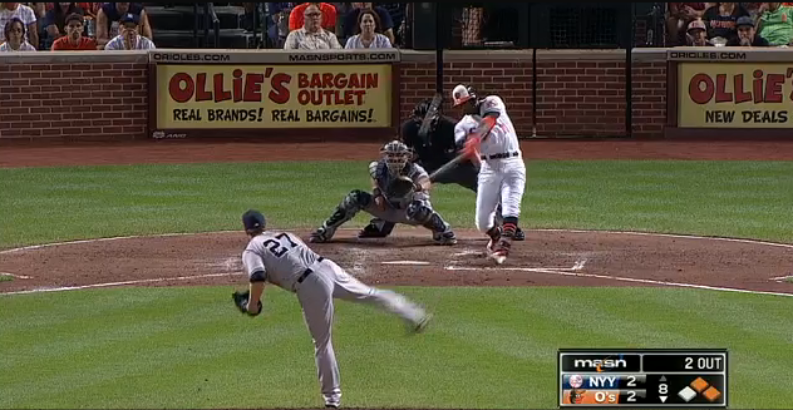 -Orioles.com
We debated long and hard about putting up this post. Argued amongst ourselves in the office hallways. But jinx be damned. After last night's game-winning, two-out, 8th-inning blast from Adam Jones, it's a near-lock now that the O's are going to make the playoffs for the second time in three years.
There, we said it.
Maybe we're getting too emotional about this—swept up in the thrill of soaring home runs, an indomitable bullpen, and a never-say-die team that seems to overcome every obstacle, batting slump, and injury (Stop with injuries already!). But look at the math and what the number crunchers have to say.
With a record at 69-50, if the O's basically play .500 ball for the rest of the year—go 22-21—they'll finish with 91 wins and 71 losses. That would mean that the second-place Blue Jays, currently 63-59, would have to finish 28-12 in their remaining 40 games to tie the Orioles for the American League East title.
The third-place New York Yankees have an even tougher task. If the Orioles go 22-21, the Yankees would have to finish the year 30-13 to tie.
Don't just take our word for it. According to the experts at the website fangraphs.com, the Orioles have a 90-percent probability of winning the American League East going into tonight, and, better, a 93.1-percent probability overall of reaching the playoffs when the possibility of a wild card spot is included.
That's all. We're not looking any farther ahead. (Although, if you want to look, fangraphs.com also includes the probabilities of the O's winning the American League Divisional Series, the American League Championship Series—and the World Series. But nobody here is even dreaming about a World Series at Camden Yards, yet. Nope. Not us.)
---
Meet The Editor
Ron Cassie is a senior editor for Baltimore, where he covers the environment, education, medicine, politics, and city life.
---