---
LEAF OUT Autumn Leaf Festival September 26-October 4 Downtown Clarion, PA
The 411: Watch a mega-parade, tap your toes to talented fiddlers and flat pickers, and join 300,000 foliage worshippers in a small college town that becomes the Pasadena of Pennsylvania for nine days. Bows and fingers fly September 26 at the Pennsylvania State Old Time Fiddlers' Contest. Grab a choice spot along Main Street for the festival's centerpiece, the 62-year-old Tournament of Leaves Parade (October 3), featuring 100-plus bands, drill teams, and floats. In addition, enjoy the renowned crafters/farmers' market, carnival rides, dancing, and delectable dishes. Better Shop Around: Shop the crafters show for handmade home furnishings. Down Right Primitives (625 Oakridge Rd., New Bethlehem, PA, 814-221-5968) sells mirrors, benches, and other furniture cleverly repurposed from old doors, windows, shutters, and headboards. Good Taste: Join the throngs at Daddy's Main Street ( 513 Main St., Clarion, PA, 814-223-4687) for grass-fed-beef burgers, fresh-cut shoestring fries, and wings (mild to "Demon's Breath"). Take a Load Off: Book a Jacuzzi suite or stylishly rustic cabin at Gateway Lodge (14870 Route 36, Cooksburg, PA, 814-744-8017), a wood-beamed B&B nestled in an old-growth forest 20 minutes from Clarion. Hike the famous Cook Forest. Soothe sore quads at The Woods Spa, and then dine on game grub (venison strip loin with juniper rub) at the lodge restaurant/wine bar.
---
HOW 'BOUT THEM APPLES? National Apple Harvest Festival October 3-4 and 10-11 South Mountain Fairgrounds, Biglerville, PA
The 411: Journey to the heart of orchard country for this two-weekend extravaganza celebrating all "apple-achian" traditions. Indulge your appetite for homemade applesauce, dumplings, pancakes, pies, even apple pizza, as you wander past kettles of bubbling apple butter and an old-fashioned cider press. Bid on prize-winning pies at the baking auction. Watch antique John Deeres do-si-do at the tractor square dances. Other offerings include live traditional music and a steam-powered shingle mill. Tickets cost $9-10, including parking and shuttle service, plus orchard tours. Drink to this: Need we remind you you're in Appleland? Take home a bag or two and a jug of cider from festival vendors. Take a Load Off: Savor the country comforts of a weekend at Hickory Bridge Farm B&B (96 Hickory Bridge Rd., Orrtanna, PA, 717-642-5261), an 18th-century farmhouse-turned-inn famous for its rib-sticking, family-style dinners. Secure a cozy creek-side cottage, a deluxe farmhouse room, or ensconce the whole family in a farmhouse suite.
---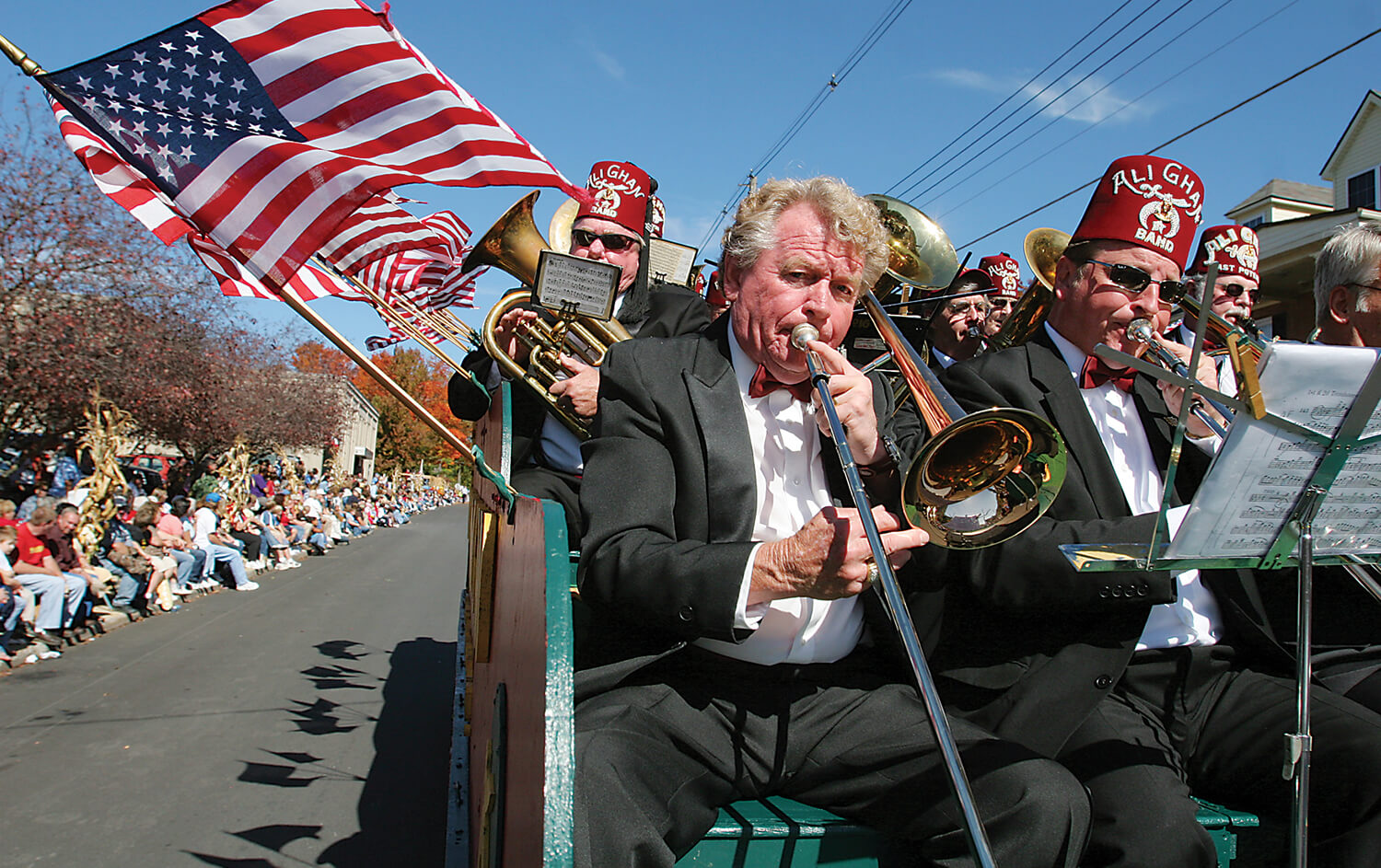 SEASON'S GREETINGS Autumn Glory Festival October 7-11 Oakland and Garrett County
The 411: The auburn slopes of the Alleghenies provide the color for this five-day event, featuring parades, crafts, quilt shows, and antiques sales, as well as turkey dinners, mountain music, clogging, marching bands, classic cars, and a kind of pumpkin X Games. Cheer on numbered, rapids-running pumpkins in a race for prize money at the Great Pumpkin Festival. Don't miss the state banjo and fiddle championships or a concert on the Great Highland Pipes. And for an extra indulgence, download maps (visitdeepcreek.com) for 25- and 60-mile self-guided foliage driving tours. Better Shop Around: Shop for hand-made quilts, Amish-built furniture, Longaberger baskets, and vintage jewelry at the weekend shows in and around Oakland, the festival's hub. Good Taste: Dine on New York strip in a peppercorn-cognac demi-glace at Cornish Manor (830 Memorial Dr., Oakland, 301-334-6499), a hillside Victorian restaurant boasting sensational views and memorable desserts. (Tuck into the bread pudding with caramel-walnut sauce.) Take a Load Off: Pamper yourself at Lake Pointe Inn (174 Lake Pointe Dr., McHenry, 301-387-0111), a luxury arts-and-crafts-style B&B perched on a quiet cove of Deep Creek Lake. The romantic, treetop level Savage Room, overlooking the lake, is a guest favorite.
---
SUDS UP Richmond Oktoberfest October 16-17 Richmond International Raceway, Richmond, VA
The 411: Visit Bavaria by way of I-95 South to attend Richmond Oktoberfest, the Old Dominion's homage to Munich's 200-year-old bier-palooza. Find a seat at the communal tables in the cavernous indoor beer garden and sample German and domestic lagers, pilsners, and seasonal brews, along with bratwurst, roast pork, sauerkraut, potato pancakes, and Bavarian pastries. Polka, waltz, and shake your hintern to The Continentals, an award-winning polka band. Then rest a spell and watch the Bavarian folk dancers—all for a mere $15 a day. Drink to This: Spring $12 for the commemorative Oktoberfest beer stein. This year's model depicts the handsome medieval Eltz Castle. Good Taste: You'll be carbo-loading all evening, so grab brunch and you'll be good to go 'til then. Tame your morning hunger with the Mallorca, a grilled, powdered sugar-dusted sandwich with cheddar cheese, country ham, and a fried egg at Saison Market (23 W. Marshall St., Richmond, VA, 804-269-3982), the casual counterpart to a Latin-influenced gastropub. Take a Load Off: Walk to the Thomas Jefferson-designed state capitol, Tobacco Row restaurants, Canal Walk, and other downtown attractions from The Berkeley Hotel (1200 E. Cary St., Richmond, VA, 804-780-1300), boutique lodgings in the city's historic Shockoe Slip district.
---
A REAL PEARL St. Mary's County Oyster Festival October 17-18 St. Mary's County Fairgrounds, Leonardtown
The 411: After every round of the National Oyster Shucking Championship—the marquee event of this singular celebration—scores of bivalves must be disposed of. That's where you come in. As each shuck-off ends, spectators line up to devour the spoils. In addition to giveaways, you can buy the oysters raw, grilled, scalded, stewed, deep-fried, beer-chased, or po' boyed. And if oysters don't float your boat, consider another St. Mary's specialty—ham stuffed with spiced greens, and then rolled into a savory, sliceable treat. The festival's $5 entrance fee is a total bargain. Take a Load Off: Inspired by all that showy shucking? Invest in a stylish oyster knife. Carolina Shuckers, a festival vendor, sells elegant, hand-forged knives fashioned from reclaimed railroad spikes. Good Taste: Chow down on rockfish dinners and house-made desserts like a local at Kevin's Corner Kafe ( 41565 Park Ave., Leonardtown, 301-997-1260), an out-of-the-way, order-at-the-counter eatery run by a former waterman. Take a Load Off: About 30 minutes southeast of the festival—and a world away—find comfort and Colonial grandeur at Woodlawn (16040 Woodlawn Dr., Ridge, 301-872-0555), a 1798 Potomac River manor house turned B&B. Set on 180 acres, the historic house and five cottages offer luxury and nature aplenty.
---
---
EYE ON THE BIRDIE Cape May Fall Festival October 23-25 Cape May, NJ
The 411: Lifelong birders and curious novices flock to southern Jersey in the fall to see migrating hawks, eagles, seabirds, and scarcer species like the fork-tailed flycatchers sighted here last year. Join trained observers as they count raptors—sometimes thousands a day—at the Cape May Hawk Watch. Festival admission includes guided walks at birding hot spots, indoor workshops (bird identification, avian photography), and talks by top ornithologists and authors. Cost is $65 per day for the festival ($35 additional for field trips by bus and boat); admission is free to the concurrent Bird Show (Cape May Convention Hall, 714 Beach Ave., Cape May, NJ, 609-884-9563). Better Shop Around: Consider upgrading your gear. Bird Show vendors offer binoculars, spotting scopes, and other equipment. Good Taste: Whatever's in season—bluefish, butternut squash, Swiss chard—you'll find on the chalkboard menu at Louisa's (104 Jackson St., Cape May, NJ, 609-884-5882), a farm-to-table cafe known for fresh fish dishes. Its new chocolate shop speaks to dessert possibilities. Take a Load Off: An upscale motel in a refurbished cottage, The Star (29 Perry St., Cape May, NJ, 800-297-3779) is as cheery inside as its goldfinch-yellow exterior. Choose from standard rooms, efficiencies, or carriage house suites, all decorated in a retro-motel-meets-beach-resort style.
---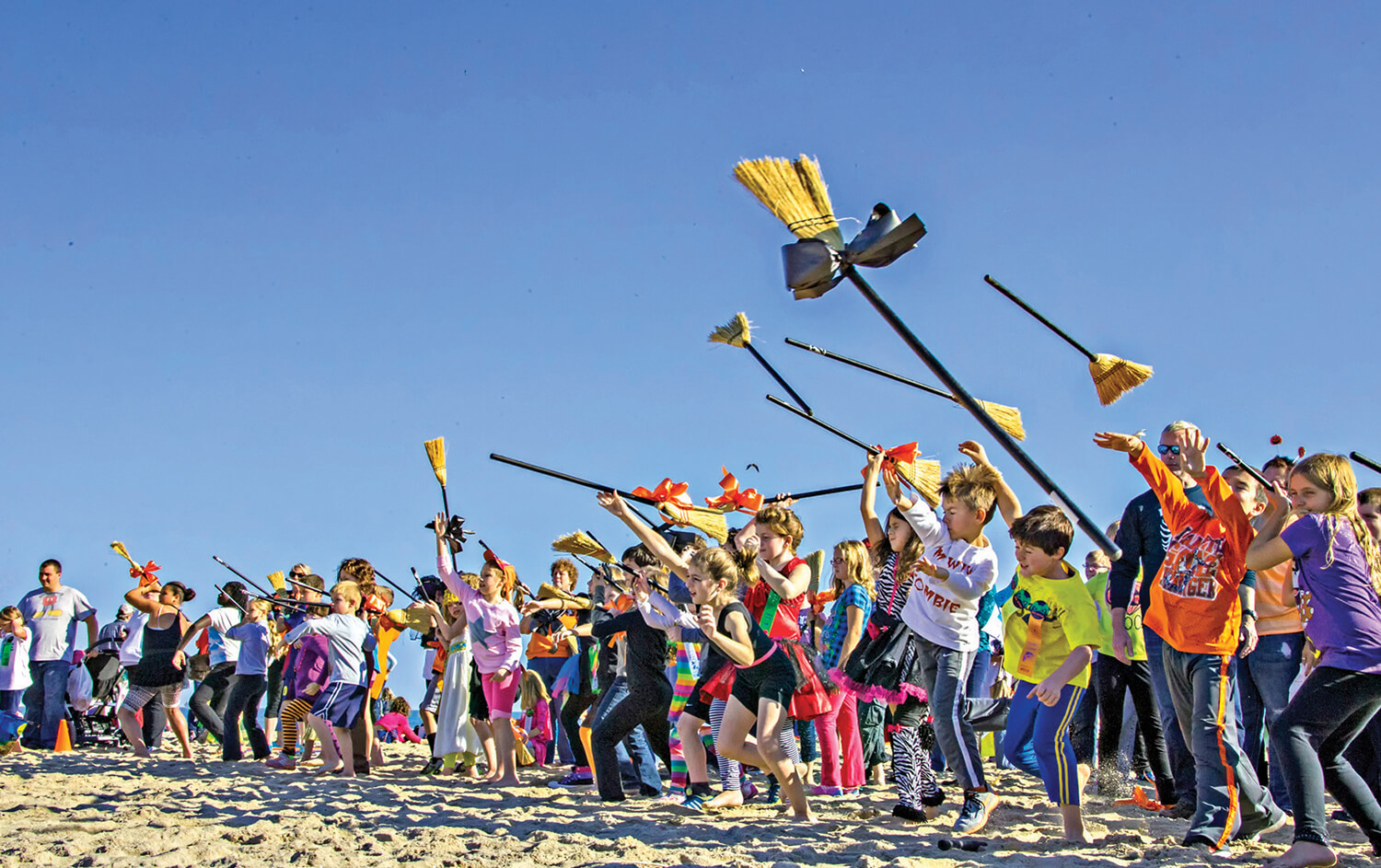 ALL DRESSED UP Sea Witch Halloween & Fiddlers'Festival October 23-25 Downtown Rehoboth Beach, DE
The 411: Think the beach is boring after Labor Day? Think again. This spirited festival is a shoulder-season romp rife with Potteresque imagination and kooky contests. The hijinks include competitive broom tossing, a dress-up 5K, and two- and four-legged best-costume parades (past canine entries included pooches dressed as flying monkeys and "Boston Tea Party," a large, Boston terrier-filled teacup). Watch a parade down Rehoboth Avenue led by the huge Sea Witch balloon while deciphering clues on a "witch hunt" for this hidden harpy. Also enjoy musical acts, including swing, indie-rock, and tribute bands at the bandstand, plus fiddlers and bluegrass groups at the state fiddlers' festival (Convention Hall). Good Taste: Rehoboth restaurant folks adore Halloween, but none more than those at Blue Moon ( 35 Baltimore Ave., Rehoboth Beach, DE, 302-227-6515). A local institution, Blue Moon blends acclaimed cuisine with outrageous entertainment. On Saturday nights, impersonators evoke Elton, Aretha, and other legendary crooners. Take a Load Off: Register, park, stay put. Book a cushy room at The Bellmoor Inn & Spa (6 Christian St., Rehoboth Beach, DE, 302-227-5800) and you're blocks from Sea Witch events. Rates include daily hot breakfast buffet, free parking, and the quietude of a charming brick-paved courtyard.