NEIGHBORHOOD BARS
Fells Point MAX'S TAPHOUSE Vibe: Just off the cobblestone streets of Broadway Square, beer nerds and sports fans alike pack this lively microbrew mecca, filled with label art, neon signs, and more than 100 rotating drafts. Order: With so many options, ask Casey for a recommendation, but a Left Hand Milk Stout on nitro was a recent favorite. 737 S. Broadway, 410-675-6297.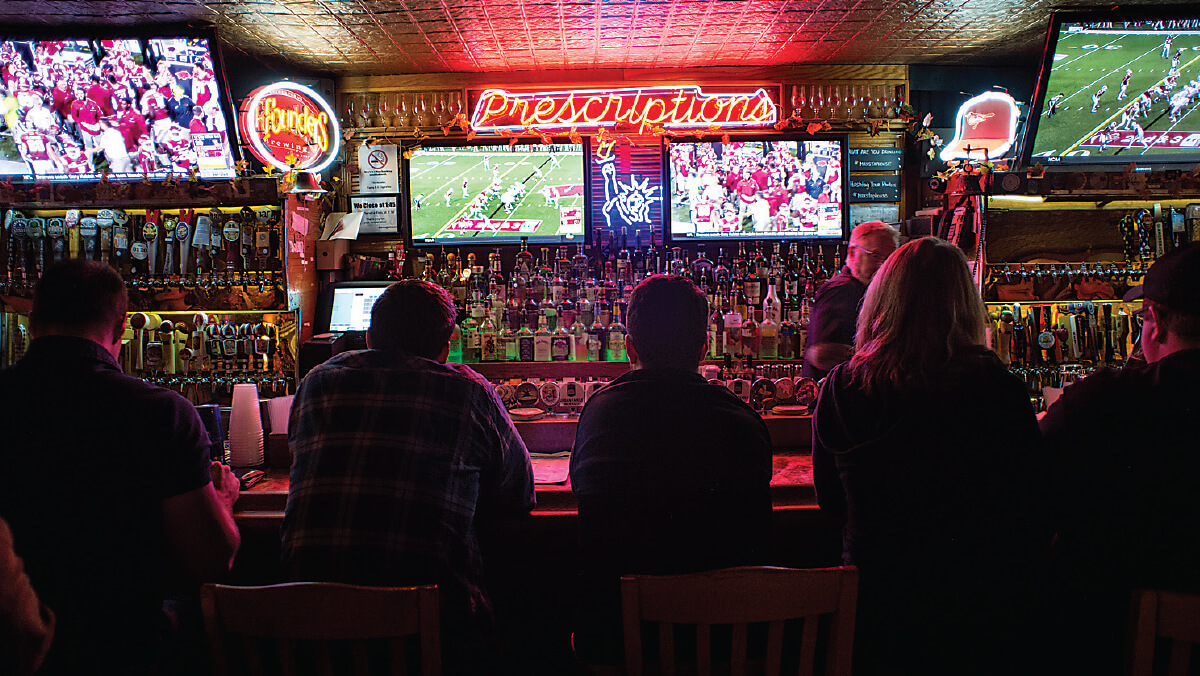 sports fans watch COLLEGE FOOTBALL at max's.
Locust Point HULL STREET BLUES CAFE Vibe: Amidst the old row homes of this newly popular neighborhood, make like a South Baltimore native with cheap beers and chummy conversation with the avuncular barkeeps at this circa-19th-century saloon. Order: A Brewer's Art Resurrection. 1222 Hull St., 410-727-7476.
Riverside BARFLY'S Vibe: This narrow hidden gem is simultaneously highbrow and low. Feel fancy as you peruse a menu of more than 435 whiskey varieties, but right at home eating Matthew's-style pizza on paper plates. Order: If your wallet allows, go for the 15-year Pappy Van Winkle. Otherwise, get the more affordable option: Pennsylvania-based Wigle Whiskey, neat. 620 Fort Ave., 443-682-7227.
Federal Hill MOTHER'S GRILLE Vibe: Whether you're outside on the jam-packed patio or inside beside the throngs of local youth, this Fed Hill staple has a penchant for purple on Sundays and extra-large portions of pub grub all week long. Order: An Orange Crush with an order of "buffacue" boneless wings. 1113 S. Charles St., 410-244-8686.
Ridgely's Delight 
CAMDEN PUB 
Vibe: From University of Maryland students to diehard Orioles fans, this solid sports bar provides the perfect place for post-exam happy hours or Camden Yards pregames. Order: O's-themed Natty Boh tallboy. 647 W. Pratt St., 410-547-1280. Little Italy
PALMERE'S 
Vibe: In a neighborhood known for restaurants rather than watering holes, this laid-back bar is much more about barstools and burgers than tablecloths and tagliatelle. Order: Budweiser, shot of Fireball, and a trio of homemade meatball sliders. 1018 Eastern Ave., 443-835-1953.
MIDTOWN BELVEDERE MOUNT ROYAL TAVERN Vibe: Beneath a faded ceiling mural of the Sistine Chapel, belly up to the long blue bar and admire its eclectic artwork while rubbing elbows with salty dogs and MICA students. Order: A Baltimore special: Pikesville Rye, a can of Natty Boh, and a bag of Utz. 1204 W. Mount Royal Ave., 410-669-6686.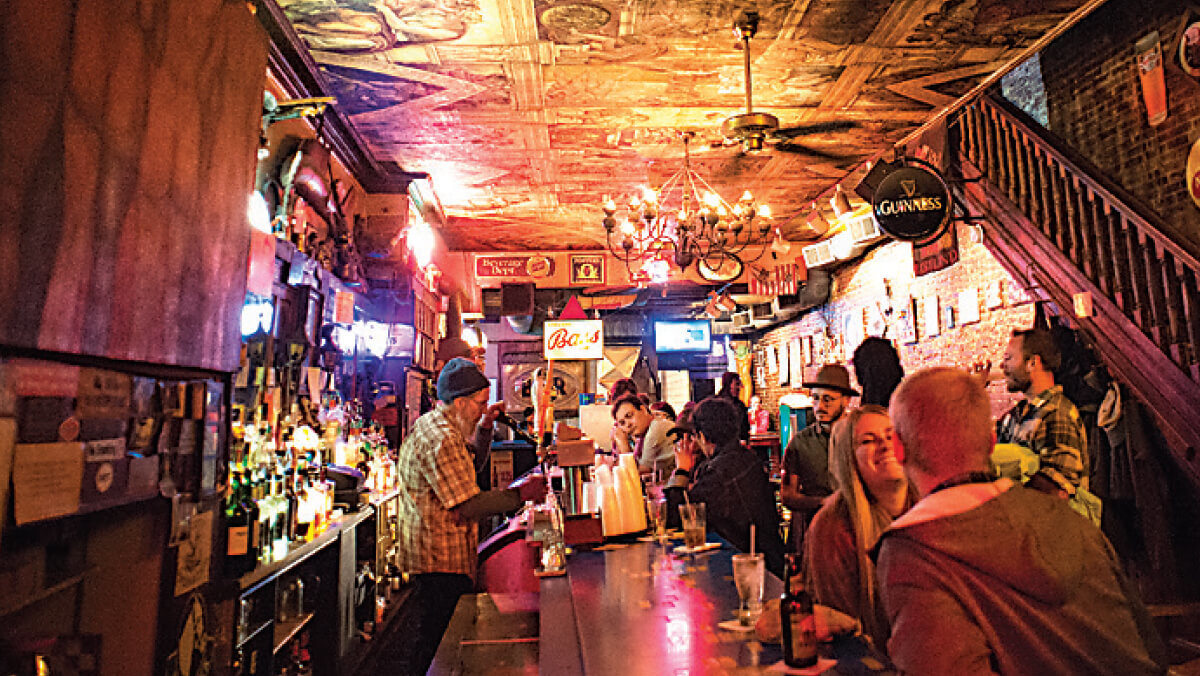 The ceiling mural at mount royal tavern
UPPER FELLS POINT SPIRITS TAVERN
Vibe: Haunted with the ghosts of drunken nights past, this former funeral home turned dimly-lit drinkery is decorated with a ghoulish flair. On a recent evening, we watched Blazing Saddles on one of the TVs—R.I.P. Pryor and Wilder. Order: Something from the Tub of Fun—if you correctly guess which brand of decidedly nonpremium beer the bartender will randomly pull, you win a free shot. Also, killer nachos. 1901 Bank St., 410-563-1612.
CANTON
 BALTIMORE TAPHOUSE
 Vibe: While the cozy confines and friendly regulars make this corner bar feel like a Baltimore standard, its beer selection is a cut above. Order: One of 14 craft drafts and a stick of beef jerky from the jar near the register. If your appetite demands, ask for the three-ring binder full of delivery menus. 600 S. Potomac St., 410-276-7553.
DUNDALK POP'S TAVERN Vibe: On an empty stretch of highway in Sparrows Point, this rowdy roadhouse is a rollicking good time, with a fun-loving, blue collar clientele and boot-scootin' country bands on weekend nights. Order: Whiskey. Whatever's closest. 4343 North Point Blvd., 410-477-0270.
HIGHLANDTOWN THE LAUGHING PINT Vibe: This pocketsize den has all the true grit and good vibes of its eclectic East Baltimore neighborhood. With friendly bartenders and a congenial crowd of locals, it proudly lives up to its reputation as the "nicest little bar." Order: A pint (naturally) of Union Anthem or a fresh squeezed Greyhound. 3531 Gough St., 410-342-6544.
STATION NORTH CLUB CHARLES Vibe: Affectionately known as "Club Chuck," this little red-lit hipster haven is the place to go to unwind from the hustle and bustle of North Charles. Slide into a plush leather booth beneath the art deco mural, order something strong, and wait your turn for the jukebox. Order: The obvious choice on Manhattan Mondays. 1724 N. Charles St., 410-727-8815.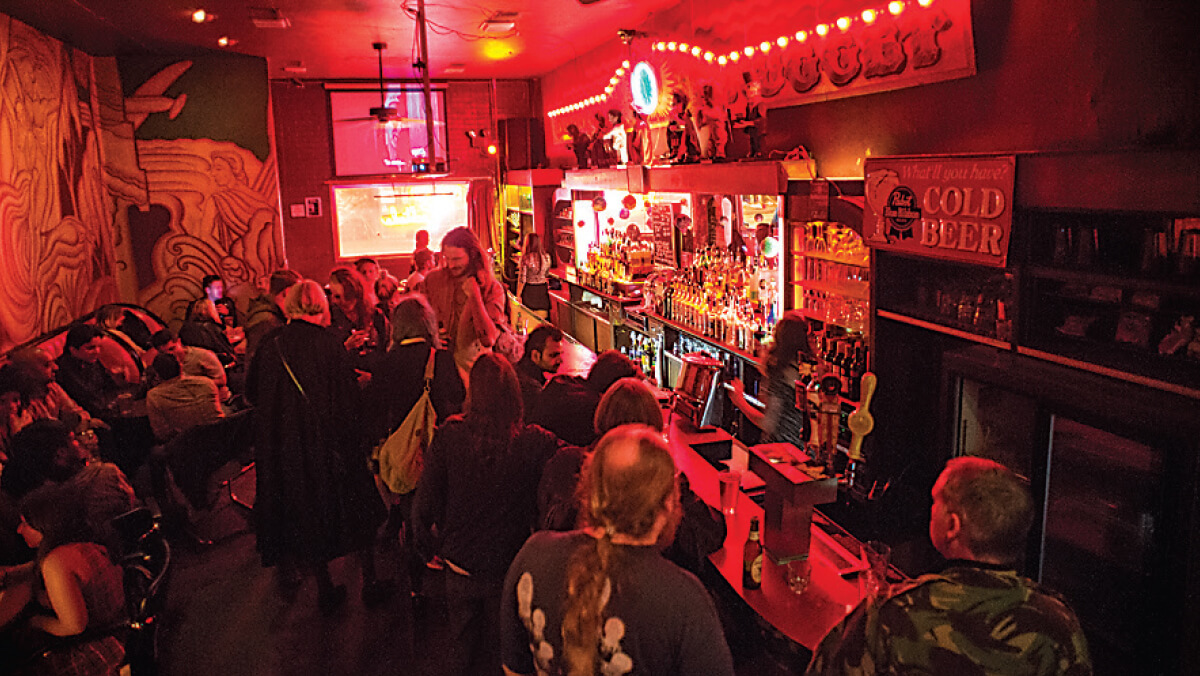 a packed house at club charles
BUTCHERS HILL THE LIFE OF REILLY Vibe: One of the only bars for blocks, this small standalone pub is worth a sit for Gaelic football (read: Irish soccer) and Emerald Isle cuisine like fish and chips and shepherd's pie. Order: Smithwicks for the beer lovers. Magners for the gluten-free. 2031 E. Fairmount Ave., 410-327-6425.
DOWNTOWN THE SIDEBAR Vibe: Nearing its 20th year, this subterranean dive 
caters to everyone from lawyers and business execs at happy hour to hardcore head bangers at night, when it transforms into a rough-and-tumble, all-ages music venue for punk, metal, and rock 'n' roll. Order: PBR tallboy. 218 E. Lexington St., 410-659-4130.
MOUNT VERNON MOUNT VERNON STABLE & SALOON Vibe: Easy to pass over in the bustling heart of the city, this down-to-earth basement bar boasts cheap drinks, comfort food, and an always active jukebox. Order: Jameson and ginger ale, liberally served in a tall pint glass. 909 N. Charles St., 410-685-7427.
CHARLES VILLAGE OTTOBAR Vibe: Now in its 15th year on Howard Street, this hallowed two-floor venue features a gritty-but-grand rock club downstairs for both small-town and big-name acts, as well as a dance floor upstairs with pool tables, leather couches, and DJ parties. Order: Two rail drinks at a time. 2549 N. Howard St., 410-662-0069.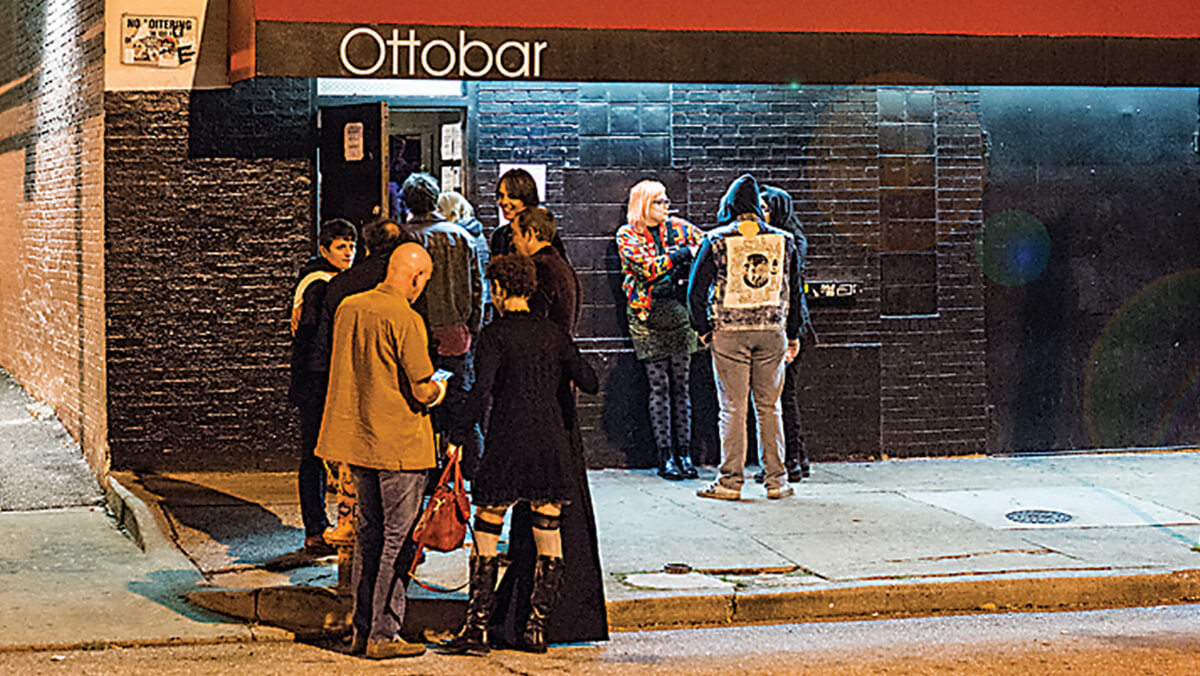 FRIENDS SHARE CIGARETTES OUTside of ottobar
REMINGTON THE DIZZ
Vibe: Tucked away from the high-rise apartments and hipster invasion of rapidly refurbishing Remington, this corner bistro, aptly nicknamed "Baltimore in a bar," features local sports on the tube, hon-style hospitality, and some of the best burgers in town. Order: Bottle of Boh. 300 W. 30th St., 443-869-5864.
MOUNT WASHINGTON THE NICKEL TAPHOUSE Vibe: Don't miss out on the other Mount Washington bar, as northwest neighbors flock here for Edison light bulbs, warm woods, and an impressive raw bar of iced oysters. Order: Evolution Lot 3 IPA and a beef on weck sandwich. 1604 Kelly Ave., 443-869-6240.
BELVEDERE SQUARE
 SWALLOW AT THE HOLLOW Vibe: Dark, tiny, and timeless, the Hollow has been a favorite gathering place for Loyola students and neighborhood denizens since the 1940s. Order: Yuengling with honey-ghost wings and a juicy cheddar cheeseburger. 5921 York Road, 410-532-7542.
HAMILTON HOLIDAY HOUSE Vibe: On the southern stretch of Harford Road, these down-home dingy digs are home to a working-class clientele, pool tables, and live music on Friday nights. The fact that John Waters used the dive as the set of his 2004 film, A Dirty Shame, (and dubbed it "a real biker bar") says it all. Order: Natural Light and a round of Keno. 6427 Harford Road, 410-426-6794.
HAMPDEN FRAZIER'S ON THE AVENUE Vibe: With Baltimore mementos on the walls, worn leather booths, and cheap drinks all night, this old-school standby is the perfect respite on a long (and fuzzy) winter or summer night. Order: Union Craft Duckpin. 917-919 W. 36th St., 410-662-4914.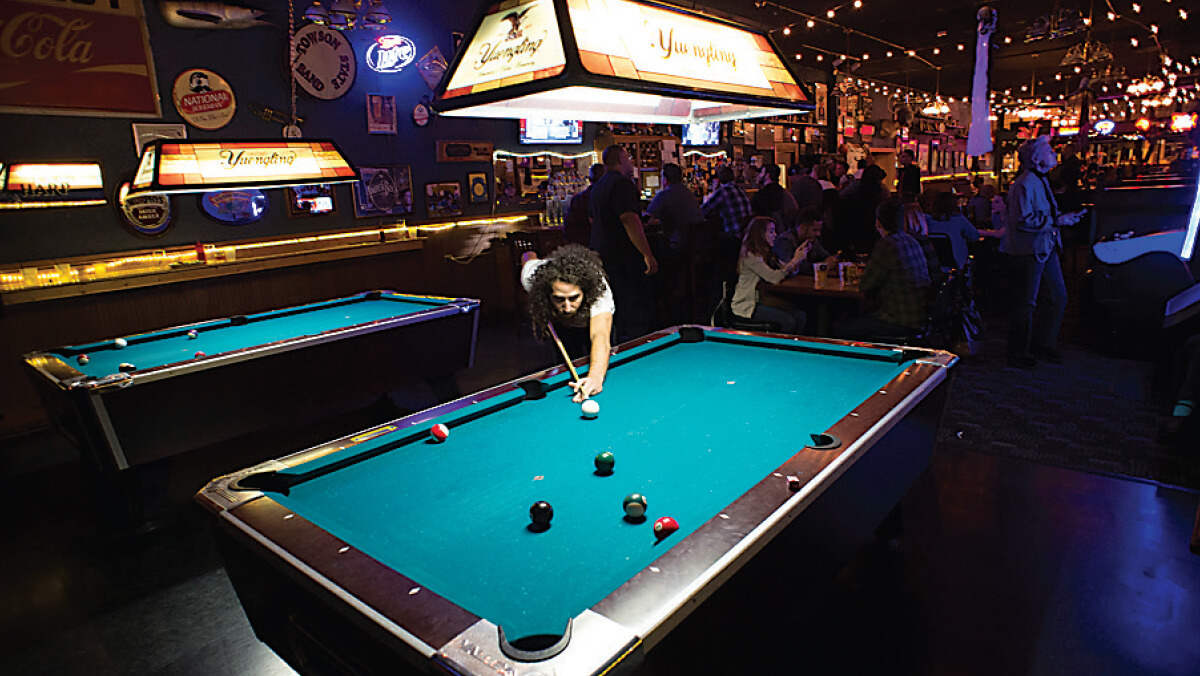 a LONE POOL SHARK PLAYS At frazier's
PARKVILLE FREDDIES ALE HOUSE Vibe: The bar formerly known as Dead Freddies still has much of its old neon sign plus a fresh beer focus with more than 20 beers on tap. Order: A Maryland local, like Manor Hill or RaR. 7209 Harford Road, 410-254-8373.
TOWSON KENT HOUSE PUB Vibe: While other Towson bars have spiffed up and spanned out, this traditional Celtic pub has stuck to its Irish-inspired roots with dark wood, live folk music, and knickknack décor. Order: Pint of Guinness by the fireplace. 506 York Road, 410-825-2650.
TIMONIUM MICHAEL'S CAFÉ Vibe: After more than 30 years, this Timonium mainstay offers a hoppin' happy hour for county residents, plus handcrafted cocktails and top-notch crab cakes. Order: A Moscow Mule, or discount rosé until 7 p.m. on weeknights. 2119 York Road, 410-252-2022.
CATONSVILLE MORSBERGER'S TAVERN Vibe: This family-owned packaged goods shop is like Nashville meets the beltway, with walls covered in neon signs, taxidermy, and miscellaneous memorabilia, plus karaoke Wednesday through Sunday. Order: A house eggnog during the holidays. Otherwise, Miller Lite. 713 Frederick Road, 410-747-9801.