Why you can't get there from here, but maybe you can soon The Lost Subways of Baltimore
"Baltimoreans could seriously ponder the question of whether the city is more important to live in, or race through." —James Dilts, March 3, 1968, The Sun
It's no secret Baltimore's mass transit system is a mess, but exactly how bad is it? Based on a 2016 study using U.S. Census data and the American Public Transportation Association's Ridership Report, Baltimore ranks 24th among 25 major cities in terms of our average transit commute time. (Thank you, Newark for being last.) When you combine the overall efficacy of public transportation—that's transit versus driving and other factors—Baltimore pulls in at 19th, one spot behind notorious car-centric Los Angeles.
So, how did we get to this? In the late '60s and early '70s, James Dilts, staff writer for The Sun, wrote a column called "The Changing City," tackling the sweeping urban issues of the day including housing, poverty, and transportation. "That was when the Charles Center got built," recalls Dilts, who currently serves as The Peale Center's board president. "It was a time of hope."
Re-reading those columns can be disheartening a half-century later because the same intractable problems remain. Yet, Dilts's reporting on the era's massive highway build-up and the lack of a viable mass transit agenda is instructive in hindsight, explaining much of the present state of Baltimore's poor public transportation system and traffic woes. In a January 1969 column, "A Question of Roads or Rails," Dilts writes the only real solution to relieve congestion into Baltimore's business districts is mass transit, noting "expressways create as much traffic as they distribute, and are, therefore, obsolete in a relatively short time."
Before Gov. Larry Hogan cancelled the Woodlawn to Bayview, 14-mile Red Line initiative last year, the late '60s and early '70s were the last opportunity to build a comprehensive subway/rail/bus system. (Inexplicably, Baltimore missed its first opportunity at the turn of the 20th century—despite complaints of "congestion" as far back as 1905—when New York, Boston, Philadelphia, and European cities built subways as electrical lines were placed underground.) That failure has reverberated through the decades, leaving Baltimore with a disconnected system that doesn't just reflect the city's inequality, but has perpetuated it—studies have correlated a lack of reliable transit to unemployment in lower income neighborhoods.
The impediment to a subway system, Dilts says, was a lack of consistent planning and political will. "Plus, you had real pushback in Baltimore County and Anne Arundel County, with people complaining that a subway would bring crime," he says. Not only is ridership here roughly 25 percent less than Philadelphia; half of Washington and Boston; and a third of New York—the income gap among users is dramatically different. In New York and D.C., ridership reflects the overall population—the difference in median income for the entire city and transit users is negligible, 2 or 4 percent. Baltimore's income gap is 35 percent—making the system one of the most class-segregated in the U.S.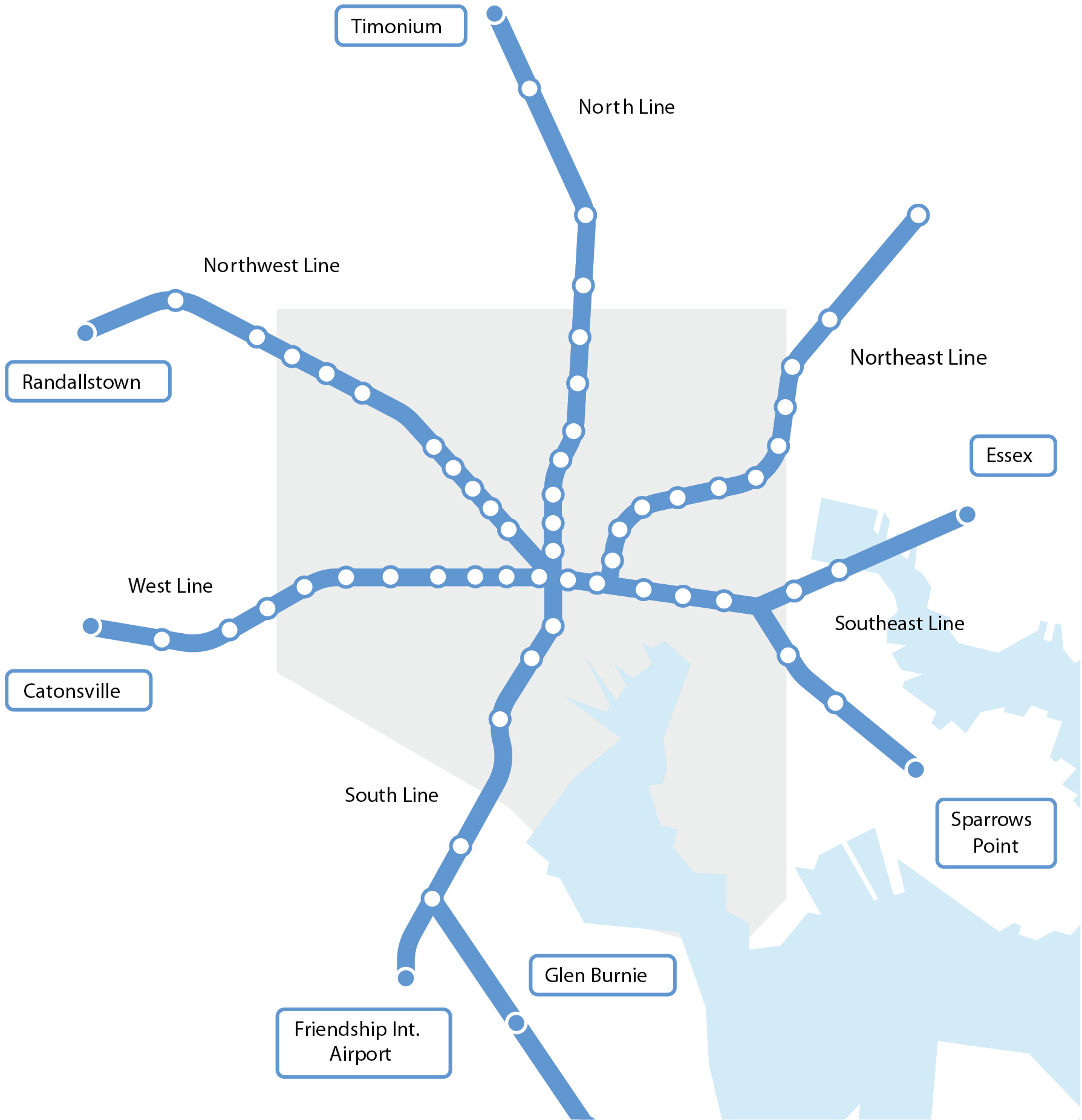 ▸ A 1968 design for a Baltimore subway system. View Larger
By the time the designs (see 1968 map) for an integrated subway and rail line and proper commissions were set up to move forward with a proposed 71-mile, 63-station hub system, federal money dried up as the country sank into the economic straights of the 1970s—caused, ironically, by the first oil embargo. Ultimately, just the single, Owings Mills to East Baltimore line opened in 1983. In 1992, the light rail line from Timonium to Baltimore/Washington International Thurgood Marshall Airport was added, mimicking two of the lines on the 1968 map, but not in an integrated way.
"Baltimore ended up with a kind of mixed-up system of subway lines, rail lines, and bus lines that don't connect well. There are just a lot of places you can't go," Dilts says. "Not easily, at least."
With all that said, the Maryland Transit Administration is in the midst of overhauling Baltimore's bus system, the city is launching its bike-share program this fall, and construction has started on a downtown bike network. Ride-sharing companies are also providing more options. Meanwhile, several new nonprofits—Transit Choices, Bikemore, and the Baltimore Equity Transit Coalition—have formed to help push transportation in the city into the 21st century. Over the next seven pages, we detail the coming changes and transportation options. Maybe it's a time of hope again.
The Multi-Modal City The Year of the Bike
After numerous fits and starts, Baltimore will launch its bike-share program this fall. The system will begin with 250 bicycles at 30 stations—half of which will be electric pedal-assist bikes. Ultimately, 465 bikes at 50 stations should be in place by spring from Locust Point to Station North. Equally important, the Department of Transportation has started construction on the Maryland Avenue cycle track—a dedicated, two-lane bikeway protected by flex posts—and a downtown network of bike lanes. With these projects as well as a build-out of street infrastructure—bike lanes and racks, protected cycle tracks, and the extension of the Jones Falls Trail, for example—2016 could prove to be a great leap forward for bike commuting in Baltimore.