Snow Day Food and Drink Specials for Winter Storm Stella
Brave the cold and head to these local watering holes to warm up on Tuesday.
By Lauren Cohen. Posted on March 14, 2017, 8:15 am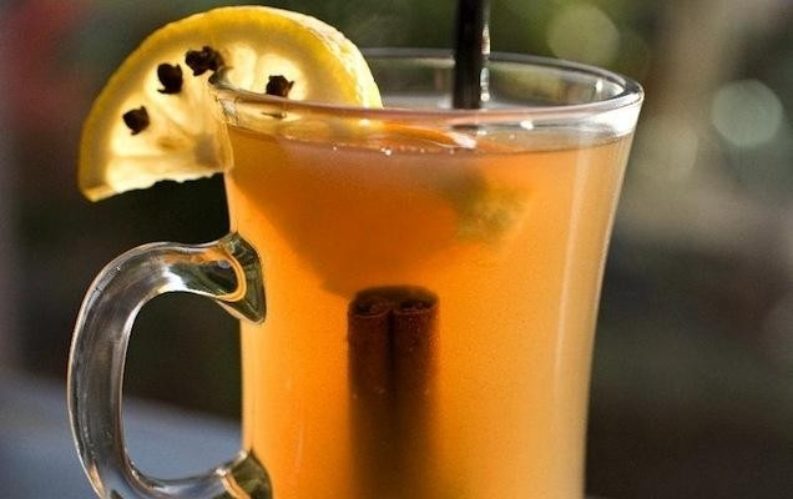 -Shutterstock
Break out the folding chairs, Charm City. On the heels of last year's record-breaking blizzard—which dumped the city with more than two feet of snow—Baltimore has had a surprisingly mundane winter, with a total accumulation of 0.7 inches thus far.
But just when we thought we were in the clear (technically only one week out from the first day of spring), Winter Storm Stella brought significant snowfall to the region last night. Schools and offices might be closed, but local bars are open for business, ready to fully embrace the snow day with plenty of food and drink deals to help you keep warm.
Alexander's Tavern: Navigate your way around the snowy Fells Point cobblestone to watch the flakes fall at this neighborhood staple, which will feature $2 Bud Light drafts and $7 sliders all day long. The specials will continue for happy hour at 3 p.m., when the bar will offer $3 drafts, $4 Coronas, and $5 Milagro tequila shots. 710 S. Broadway, 410-522-0000

Blue Agave: This Mexican mainstay in Federal Hill is celebrating the snow day's overlap with Tequila Tuesday, offering $5 margaritas all day long. The bar will also feature its brunch menu from 11 a.m. to 3 p.m. with bottomless mimosa and sangria options. 1032 Light St., 410-576-3938
Bookmakers: Nothing warms you up quite like whiskey, and this dimly-lit Federal Hill hideaway will be pouring $7 old fashioneds to celebrate the snow day. The bar—which will open its doors early at 2 p.m.—will also boast $5 select whiskeys, $5 draft beers, and $7 Cross Street Highball cocktails (vodka, pear, honey, ginger beer, and lemon) all day long. 31 E. Cross St., 443-438-4039

Charles Village Pub & Patio: For Towson locals—especially college students praying for cancelled class—this multi-level hangout will be running creative specials determined by the total accumulation as the day goes on. Expect $5 boozy warm cocktails at two inches, 75-cent wings for nine inches, and $5 cheeseburgers and $10 "beergaritas" if the snowfall surpasses one foot. 19 W. Pennsylvania Ave., Towson, 410-821-8155

Das Bier Haus: In Federal Hill, this German-inspired beer hall is giving snow boots a whole new meaning. Take advantage of a $2-off discount on the bar's signature liter-sized beers in a glass boot while enjoying two schnitzel entrees for $22 until close.1542 Light St., 443-708-8854
Delia Foley's Pub: Take a break from shoveling and head to this Irish staple in South Baltimore to enjoy happy hour deals (and a requisite order of wings) until 7 p.m. Starting at 11:30 a.m., specials of note include $2-off Irish beers, $3 domestic bottles, and $4 rail and Jameson drinks. 1439 S. Charles St., 443-682-9141
Eight Ball Meatball: This Fells Point eatery known for its hearty comfort foods opens at noon today, featuring specials like $2 sliders, $5 craft beers and barrel-aged Manhattans, and $12 pizzas. 814 S. Broadway.,443-759-5315

Gunther & Co.: Post up at the bar at this Canton restaurant to enjoy $6 tiki drinks and other happy hour specials all day long. The restaurant will also be shucking discounted oysters, and executive chef Jerry Trice will be serving specialty flatbreads straight out of the wood-fired oven all day. 3650 Toone St., 443-869-6874
Kooper's Tavern: Forget your winter woes by sipping $3.50 Kooper's Yellow Tale Ales and throwing back $5 Blizzard bombs at this Fells Point favorite. Be sure to line your stomach with eats including fried goat cheese, crispy cauliflower, and half-priced burgers all day. 1702 Thames St., 410-563-5423
Lee's Pint & Shell: As its name denotes, this recently-rebranded Canton spot specializes in craft beer and top-notch raw bar offerings. Starting at 11 a.m,, the bar will be shucking 50-cent oysters and offering all-day happy hour deals including $2-off drafts, wines, bottled beers, and specialty cocktails. 2844 Hudson St., 410-327-2883

Lobo: Grab your neighbors and head to this Fells Point favorite, which will open at 2 p.m., to enjoy all-day happy hour deals on a variety of cocktails and appetizers. In addition, the regular menu boasts plenty of steaming soups and overstuffed sandwiches to help warm you up. 1900 Aliceanna St., 410-327-0303
Mad River: With its dark woods and artsy antler chandeliers, this Federal Hill favorite is the perfect place to escape the cold. The bar is opening early at noon and hosting a full-blown snow day party complete with $3 beers, $4 mixed drinks, and $5 bombs. 1110 S. Charles St., 410-727-2333

Mother's Grille:As long as you have a koozie handy, you can't go wrong cracking open cold a beer on a snow day. In Federal Hill, Mother's is celebrating accordingly with $3.99 Goose Island and Blue Moon bottles all day long. Snag a seat near the window to enjoy the sips paired with a $12 bowl of steamy jambalaya while watching the snow cover Charles Street. 1113 S. Charles St., 410-244-8686

Mt. Washington Tavern: This neighborhood spot will be offering happy hour pricing from 11 a.m. to 6 p.m. on Tuesday. Though the weather won't be ideal for hanging out on the top-floor Sky Bar, cozy up inside to enjoy $3.30 drafts and $4 glasses wine while snacking on Buffalo wings, truffle fries, nachos, and crab wontons. 5700 Newbury St., 410-367-6903

Rocket to Venus: As an homage to the storm's name, this Hampden hangout will be slinging $3 16-oz. pints of Stella Artois all day long. Pair the discounted beers with snacks such as fried pickles, pierogies, and Old Bay wings. 3360 Chestnut Ave., 410-235-7887
The Rowhouse Grille: Throw on your snow boots and make the trek to this Federal Hill eatery—which recently renovated its upstairs bar—to sip $3 pints of Natty Boh and $8 mugs of warm apple cider spiked with shots of either bourbon or rum. Rowhouse will also offer happy hour food specials—including discounted buffalo chicken dip, crab dip, and personal pizzas—all day long. 1400 Light St., 443-438-7289
Saigon Today: As long as Canton sees at least one inch, this fan-favorite hangout will carry on its snow day tradition of offering $5 bowls of piping hot pho all day long. Other specials to help you warm up will include $3 hot toddies, $4 spiked hot chocolates, and $5 bombs. 700 S. Potomac St., 410-276-4888
Slainte: This Fells Point sports bar is opening its doors bright and early at 7 a.m., offering its full breakfast menu with bottomless mimosa and Bloody Mary options. Throughout the day, sip $5 hot toddies while enjoying pub grub including Scotch eggs, Old Bay wings, and half-priced cheesesteaks. 1700 Thames St., 410-563-6600

Wet City: Bundle up tight and head to this Scandinavian-inspired spot in Mt. Vernon to tip back craft beers while digging into specialty bites like $8 cheeseburgers from happy hour until close, and the new confit chicken wings served with ancho Buffalo, Thai chili garlic, and beer honey sauces. The bar will also be pouring a special $8 hot toddy made with locally sourced blends from Wight Tea Company.223 W. Chase St., 443-873-6699
Wit & Wisdom: Equipped with flickering fireplaces around every corner, this dining destination inside the Four Seasons Baltimore is the perfect place to spend a snowy evening. Aside from offering its regular menu, the restaurant will pop half-priced bottles of champagne all night long. If you're not in the mood for bubbly, belly up to the bar to enjoy Wit & Wisdom's signature hot toddy garnished with a cinnamon stick and an orange twist. 200 International Drive, 410-576-5800
---
Meet The Editor
Lauren Cohen is a digital staff writer for Baltimore, where she blogs about food, events, lifestyle, and community news.
---